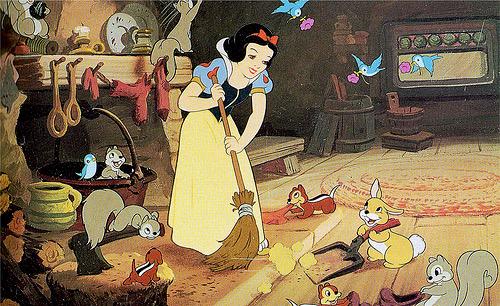 Does anybody else immediately think of Snow White when you hear Katy Tiz' song "Whistle While You Work It?" I was sure it had to be partly a direct reference to the classic song from the Disney movie, so I did a little digging to see if there might be more to the song and how it relates to fairy tales.
Basically, Snow White's "Whistle While You Work" really was the inspiration, but there's not much more to it than that phrase and cartoon animals coming to life in the official music video. In this article by
Mike Wass for The Idolator
Katy said "this video comes from my love of graffiti artwork and
takes inspiration from some of the greatest fairy tales of all time
...you may think this song is about going to the club and 'working it' but if you pay close attention to the lyrics, you'll see it's much deeper than that." (emphasis mine)
In
this interview by Anna Moeslein on glamour.com
:
So what was your inspiration for the video?
Katy:
So the song is called "Whistle (While You Work It)," and that originally is from the Disney movie
Snow White
—and that scene where she's with the animals and they're like "No, we don't want to clean up" and she's like "Well, whistle while you work" and they all clean up together. Banksy is one of my favorite artists, so it's kind of a mixture between like the graffiti he does with the original Disney theme. The video is me going about daily tasks with these four animals who are animated that cause havoc. It's really cool because I'm not trying to be sexy—I'm not trying to be anything other than a bit of a dork like I actually am.
I don't think Tiz grasps what normal people consider "dorky"...
The song is about powering through tough times, although I'm not sure I agree with the implication that you should just swallow your emotions, or that that's what fairy tales say ("you won't see me cry", "never let them see you down". But I can get behind lyrics like these:
"Tune out of your darker side/Regret, revenge will eat you up inside/Head up, work that dignity/Let it bounce, let it fly, and make them history"
Overall the song seems well liked and people think it has a positive, upbeat message. There's already a mashup of the pop song with animation from "Snow White":