In my last post I discussed the Andersen fairy tale
The Red Shoes
, which has since been made into a
ballet film
. From 1948, it still has many fans and was a groundbreaking movie at the time.
From a fairy tale perspective, I think it's very interesting how the focus of the tale shifted from Andersen to Hollywood. Andersen's tale is clearly a morality story, cautioning young girls against disobedience, especially in the form of vanity; with the only cure being extreme piety.
When you transport the story into the ballet world, the emphasis on vanity almost becomes obsolete.
The whole dance form is very unnatural and painful-to move in your legs in perfect turnout and dance on the tips of your toes is counter intuitive and requires years of disciplined training (and often bloody feet, which also hearkens back to several fairy tales). Yet this is also why ballet is so fascinating to watch, and why it goes perfectly with fantasy and fairy tale stories; the dancers really do appear otherworldly and fairy-like. In a world of painful shoes and impractical tutus, condemning a pair of shoes for being a certain color is hardly relevant.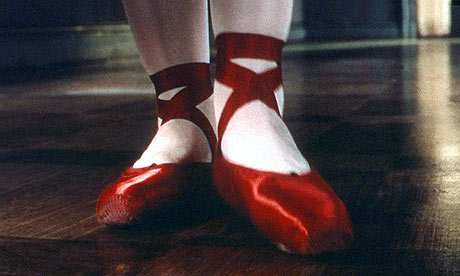 The film centers around a dancer, Vicky, who is cast as the lead in a ballet based on the fairy tale "The Red Shoes." The summary from
Imdb
:
Under the authoritarian rule of charismatic ballet impressario Boris Lermontov, his proteges realize the full promise of their talents, but at a price: utter devotion to their art and complete loyalty to Lermontov himself. Under his near-obsessive guidance, young ballerina Victoria Page is poised for superstardom, but earns Lermontov's scorn when she falls in love with Julian Craster, composer of "The Red Shoes," the ballet Lermontov is staging to showcase her talents. Vicky leaves the company and marries Craster, but still finds herself torn between Lermontov's demands and those of her heart.
Thus the conflict has gone from obedience/humility vs. vanity, to love vs. career.
This dilemma is one that many modern people can relate to, and is also especially true of ballet, which is such a demanding career.
But the image of a pair of shoes that has a mind of its own, that is dangerous and can lead someone down a path that can destroy their life, is still present in both stories. Yet I think audiences of the movie tend to see the conflicts less of something that was Vicky's fault, and more of her being caught in a very difficult situation. We are intrigued by the creepy idea of shoes with a death wish, and so the fairy tale lives on, yet now in a story more appropriate for a culture that seeks a different form of morality.
Keeping the story and ballet relevent to more current audiences, the ballet was featured throughout season 2 of the Australian ballet t.v. show
Dance Academy
(available on Netflix Instant Play! In case you can't tell this is pretty much where I get all of my entertainment). As the main character preps the solo for an audition, we are told that what sets this excerpt apart from others is the need for the dancer to have emotional maturity-she needs to portray real grief as well as good technique. I'm not sure what real dancers think of this solo-is it really challenging? Do you really have to have more grief than most other solos? Many ballets have tragic storylines so I suspect this was something overemphasized for the sake of the show. However, it did bring the story to light for a new generation, as the fairy tale keeps being reimagined for an ever changing world.
Also, has anyone seen the
2005 Korean Red Shoes film
? It has pretty good reviews but also seems REALLY dark.