You may remember the buzz a couple years ago when 500 German fairy tales were discovered-
Heidi covered it at Surlalune
and Gypsy covered it on
Once Upon a Blog
in 2012 when it was in the news (among other bloggers).
Then when Heidi alerted us that
the book is now available
, I immediately put it on my Amazon wish list! The birthday fairies were very kind and struck again and I now have my
very own copy
: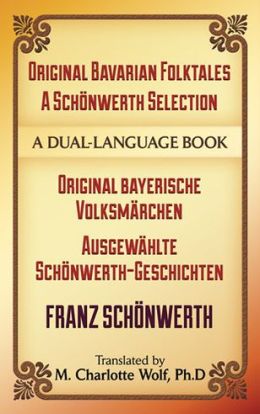 To summarize, Schonwerth, inspired by the Grimms, collected many tales from his native region of the Upper Palatinate. Only, he actually did what the Grimms only claimed to do:
went among the common folk
and
preserved the tales just as he was told
. And though we may frown upon the Grimms for taking the easy way out-having their educated, of-French-ancestry, middle class friends tell them the majority of their tales, it wasn't an easy task for Schonwerth. He sent out many surveys, many of which were never returned. He made multiple trips to that area of the country, having to first earn the trust of the working class there, who were afraid that they were being made fun of.
The Upper Palatinate, in red, a region of Bavaria-native home to Schonwerth and his wife, from where all of his tales were collected
Also interesting to note, Schonwerth worked for King Maximilian II of Bavaria, becoming one of his most trusted confidants. His son became King Ludwig II, who created the famed
Neuschwanstein Castle
, often called the Fairy Tale King. M. Charlotte Wolf, translator/editor of this book, points out that Ludwig may have been inspired in his love of folklore by his father's friend.
Schonwerth's collection includes varations of some of our familiar fairy tales, but I haven't come across those yet. In fact, overall the stories I've been reading (they are divided into sections according to themes) sound much less like stereotypical fairy tales and more like tales of fairies and spirits, or ghost stories. Much more similar in tone to Thomas Keightly's
Fairy Mythology
than to most of the Grimm tales (although several of the stories in their collection wouldn't fit into a
Proppian analysis
either, their collection contains religious tales and other genres as well). The book includes all aspects of folklore, myths and legends as well as fairy tales. Many of the stories were ways of
passing down knowledge of superstitions held by the people
(such as, clothing made by a pregnant woman are more likely to be struck by lightning, how to handle changelings, etc.). So in a way they are more warnings than stories for entertainment-and the book contains many helpful footnotes to explain certain customs and beliefs that the stories illustrate. And contrary to the stereotype that all fairy tales end happily, so far
the vast majority do NOT end happily
. Many characters suffer consequences of failing to heed advice, or simply suffer from some of life's unfortunate circumstances.
I'll be sharing more as I read in the upcoming weeks!