Continuing on in my trend this week of reviewing Disney movies everyone has already seen...now we go even FURTHER back in time. Last weekend I saw one of the classic fairy tale cartoons that I somehow managed to never see around the time it came out, 2009,
Princess and the Frog
. At the time, as I remember, there wasn't that much buzz around it after it came out, and I assumed it wasn't that great.
Given my lower expectations, I was really impressed by the film! It wasn't the funniest Disney film ever but it had my group of friends and I laughing on several occasions. And even more impressive were the characters.
At first I was worried about Prince Naveen's character. I knew he would eventually end up with Tiana and I didn't see it. I thought it would be like Tangled-my
main problem with Tangled
was that I didn't believe Flynn Rider had really changed and that Rapunzel had any reason to trust him. So often in romances-and not just fairy tale romances-the audience isn't really supposed to
think
too much about the characters, and whether or not they could actually work together. We're just shown a guy and a girl and it's assumed we want them to be together. Yet, although Naveen's and Tiana's romance was short compared to reality, given the time constraints of a family friendly Disney musical, I thought they did a nice job. I believed the change in Naveen and found myself really rooting for them as a couple.
I really liked the fact that all the main characters came to a point where they had to make a choice and ultimately sacrifice their biggest dream for the sake of the other characters-Naveen was going to give up Tiana to give her her restaurant, she gave up her restaurant and later her humanity to be with Naveen, even Louis had to stop playing in a jazz band to help save them, and Ray! Don't judge me but I may have teared up a little when there were two stars in the sky...
This scene was gorgeous...
In fact it was kind of like the reverse of
my thoughts on Into the Woods
. In that film, the question is, how far will each character go to get what they want? "Princess and the Frog" shows the characters all
giving up
what they want for others. And that's pretty rare for Disney films (and most movies...) the only other Disney fairy tale I can think of where the characters make tough choices like that, instead of just responding to the situation around them, is "Beauty and the Beast" (Belle gives up her freedom for her father, Beast sacrifices his chance of being with Belle and becoming human to let her go home).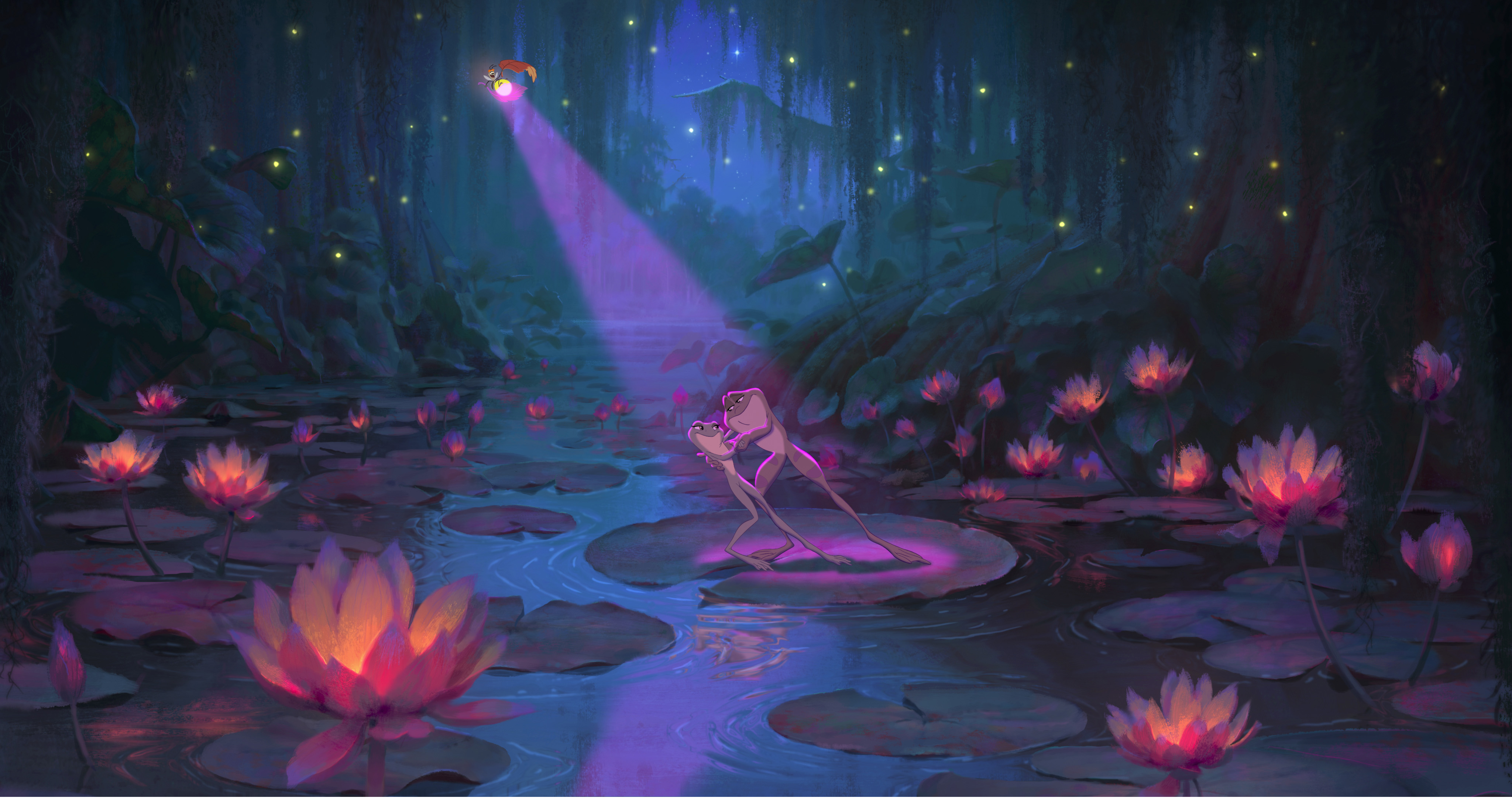 And speaking of BATB-the fact that Tiana became a frog was advertised in all the trailers at the time, and no secret. But it did provide a nice twist on the Animal Bride/Bridegroom tale to have both of them transformed-there's no wondering, like in BATB, if the Beast would have even fallen for Belle if she weren't the most beautiful girl in the village. Both of the characters fall for each other while they're frogs so the physical aspect of the romance isn't an issue at all.
Concept Art
Tiana is a strong, feminist character (if not a little extremely preachy about the value of hard work and judgmental at first, but that was part of her character's growth). I couldn't decide if showing a woman who is career focused and whose big lesson to be learned is that she needs love too is ironically unfeminist though...but I decided I didn't mind it. The reverse, a woman who only wants love, would be too much like her Princess predecessors. (We also had that character in Charlotte). Plus there are plenty of family movies out there in which the father has to learn to spend time with his family and not focus just on work. Tiana is clearly more mature and likeable than Naveen at first, but I'm really glad they both had something to learn and it wasn't all about spoiled rich people being selfish. To even show a female so career focused and uninterested in men was pretty unusual for Disney, and it does reflect the challenges women are facing now that we have more career opportunities to have to juggle work and family and try to find that tricky balance.
What did you guys think?
According to Wikipedia
, part of the reason the movie didn't do as well as the studio hoped is the fact that the word "Princess" was in the title of the movie, therefore it appealed mostly to little girls and not as wide of an audience (and hence the titles for more recent Princess movies being "Tangled," "Brave," and "Frozen"). And while critics liked it overall, the overwhelming response was to compare it to "Beauty and the Beast," "Lion King," and the other major animated films of the second Disney Golden Age in the 90s. That's part of the problem for any Disney movie, is people's expectations can be SO high they'll be disappointed with anything that won't be nominated for Best Picture ("Princess and the Frog" was nominated for Best Animated Picture, but lost to "Up.")