Reader Nectar Vam mentioned a version of Bluebeard in the comments of my last post that I had never heard of before. I haven't heard too many folkloric tales other than the Grimms' "Robber Bridegroom" and "Fitcher's Bird," so I did some digging.
"Bluebeard" by Jennie Harbour
From
Terri Windling's Bluebeard article
:
"In a Scandinavian version of this ballad, a nobleman's daughter is courted by a handsome, honey–tongued, false suitor who promises to take her to the fair if she meets him in the woods. Her father will not let her go, her mother will not let her go, her brothers will not let her go, but her confessor gives permission, provided she keeps hold of her virtue. She finds her suitor in the woods busy at work digging a grave. He says the grave is for his dog; but she protests that it is too long. He says the grave is for his horse; she says it is too small. He tells her the grave is meant for her, unless she consents to lie with him. Eight maidens has he killed before, and she shall be the ninth. Now the choice is hers — she must lose her virtue or her life. She chooses death, but advises her false suitor to remove his coat, lest her heart's blood spatter the fine cloth and ruin it. As he takes it off, she grabs the sword and strikes his head off "like a man." The head then speaks, instructing her to fetch a salve to heal the wound. Three times the girl refuses to do the bidding of a murderer. She takes the head, she takes his horse, she takes his dog, and rides back home — but as she goes, she encounters her suitor's mother, his sisters, his brothers. Each time they ask, "Where is thy true love?" Each time she answers, "Lying in the grass, and bloody is his bridal bed." (In some versions, the entire family is made up of robbers and she must kill them too.) She then returns to her father's court, receiving a hero's welcome there. But in other "murderous lover" ballads, the heroines are not so lucky. Some meet with graves at the bottom of the sea, others in cold rivers, leaving ghosts behind to sing the sorrowful song of their tragic end."
(emphasis mine)
"Bluebeard" by Harry Clarke
How chilling! It's really a powerful warning about date rape, but I love that in this version, the heroine saves herself-she comes up with the solution and "strikes off his head like a man" (and is never condemned for curiosity, meeting her suitor in the woods, or killing him, but is respected and rewarded!!)
Another tale in which the heroine kills the Bluebeard figure all on her own, from the
same article
: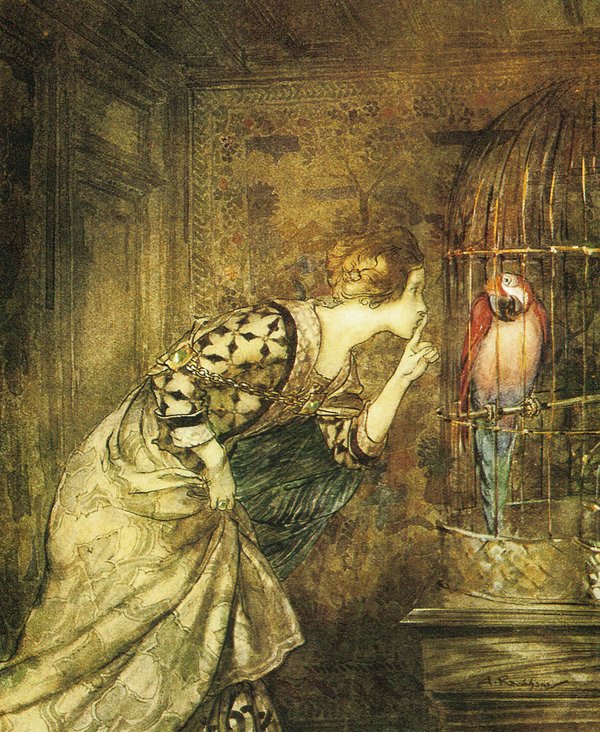 "May Colven" by Arthur Rackham
"In "May Colvin," False Sir John rides off with a nobleman's daughter he's promised to marry — but when they reach the sea, he orders the maiden to climb down from her horse, to take off her fine wedding clothes, and to hand over her dowry. "Here I have drowned seven ladies," says he, "and you shall be the eighth." May begs him, for the sake of modesty, to turn as she disrobes. And then she promptly pushes him in the water to his death."
Also, as I was looking up the first tale mentioned here, I came across this old
newspaper article
from the Milwaukee Sentinel from December, 1931. The story begins on the front page with the headline,
Three Relate Grave Digging of Bluebeard
. It's easier to read the
article on Harry Powers on wikipedia
but it's also cool to read the old newspapers. It's really horrible that, of all fairy tales, it seems like it's easiest to find real life equivalents to Bluebeard, but there have been a disturbing number of male serial killers who prey on females. From Wikipedia:
Mugshot of Harry F Powers-serial killer the newspapers dubbed "Bluebeard"
"Upon searching the home, police found the
crime scene
in four rooms located under the garage. Bloody clothing, hair, a burned bankbook and a small bloody footprint of a child were discovered. Citizens of the town began to arrive at the scene to watch the unraveling of the crimes Powers had committed. Police began to dig up a freshly filled-in ditch found on Powers' property, and the bodies of Asta Eicher, her children and Dorothy Lemke were uncovered. Evidence and
autopsy
results showed that the two girls and their mother were strangled to death while the young boy's head was beaten in with a hammer. Lemke was uncovered with a belt wrapped around her neck, with which she was strangled. Love letters were found in the trunk of Powers' automobile. He had written back to many women and had the intentions of stealing their money and killing them, just as with his most recent victims.
"
And guess what the name of the Sheriff who obtained the search warrant for his house was? Wilford B. Grimm.