" Famous for wearing out rapidly, early silk and brocade shoes from the 18th Century weren't very long-wearing without protective overshoes. They were straight-lasted (meaning no left or right) and skinny, quite an uncomfortable mix"
"Through most of the 18th century, fashionable ladies' shoes were seldom made of plain fabrics. The majority were constructed with patterned fabric, whether self-figured, brocaded, or embroidered. It was not uncommon for a lady to embroider her own uppers and bring them to the shoemaker to be made up into shoes. By the last quarter of the 18th century,
embroidery patterns for shoe vamps
were being published in ladies magazines."
-The Met
-Information and image from this post on
18th Century Shoes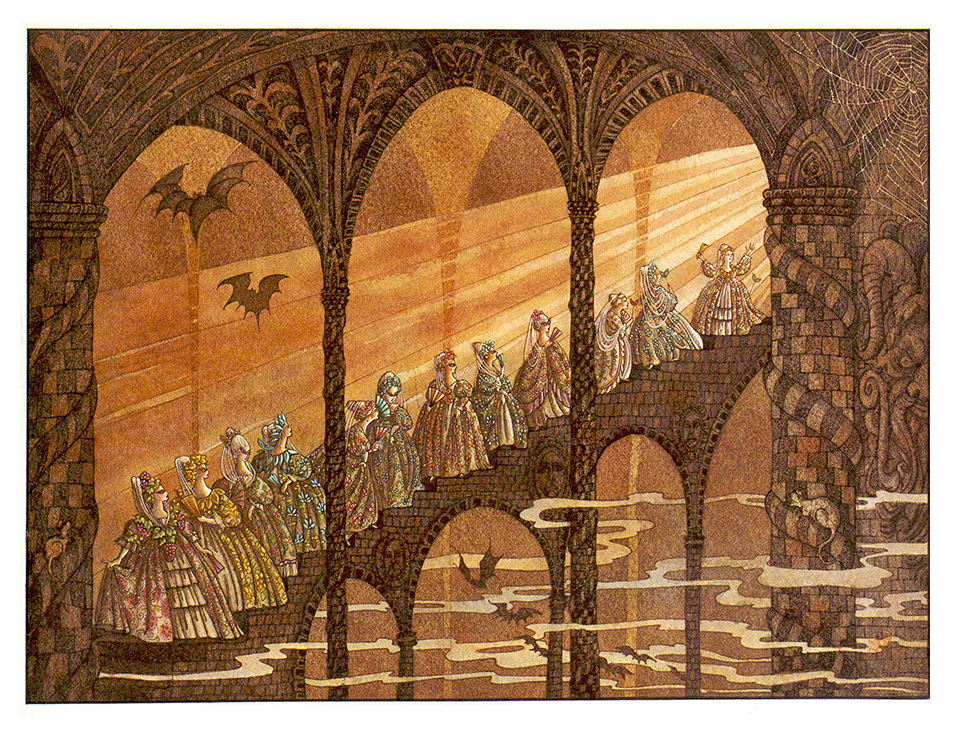 The curse of the Twelve Dancing Princesses is rather ambiguous, as we see in
related tales from around the world
. On the one hand it seems like endless partying would hardly be considered a punishment for teenage girls, and in the Grimm version there don't seem to be negative side effects other than wearing out shoes quickly. Some versions go into more detail about the underground kingdom and the evils that lurk there.
But maybe when you think about
having to dance in extremely uncomfortable shoes all night
, every night, it really does seem
more like a curse. This image below of paper-thin shoes makes me think of fairy tales in which dancing in certain shoes is a punishment-the Queen in Snow White in her red hot iron shoes, Karen in "The Red Shoes," Giselle and the Wilis in the ballet "Giselle." Or even a
Hungarian version of "Twelve Dancing Princesses"
in which the Princesses fly on brooms to Hell and dance on a floor full of razors!
Twelve Dancing Princesses: The Shoes
Image
on tumblr (original source no longer there)
Or even from the perspective of the King, or any middle/upper class father with daughters that would have to continually pay for new pairs of shoes that wore out so quickly-participating in balls was one of the primary social events and you wouldn't want to deprive your family of ways to socialize and potentially meet suitors, yet it would be a costly endeavor to keep multiple daughters in that social life! Maybe the curse is more from his perspective! (Maybe his killing off the princes who couldn't find the sisters' secret is representative of his frustrations when gentlemen didn't understand his daughters on a deep enough level to propose to them, therefore keeping them in his household and his financial responsibility??)
Illustrations by Errol le Cain