In my post on the different ways of
Awakening the Sleeping Beauty
, reader Nectar Vam shared this fantastic gender swapped version of the tale,
The Sleeping Prince
. It combines elements of Sleeping Beauty, Snow White, East of the Sun and West of the Moon, and even reminded me a little of Beauty and the Beast with the enchanted castle at the end. A bird tells a Princess of a sleeping Prince, who is white and gold and red, and goes on a dangerous journey even though she knew her parents wouldn't approve. She has to go to the lands of the West Wind, East Wind, and North Wind, where mortals should not go, and follow instructions to get past two lions that guard the gates of the castle, and awaits the time when the Prince's spell will be over.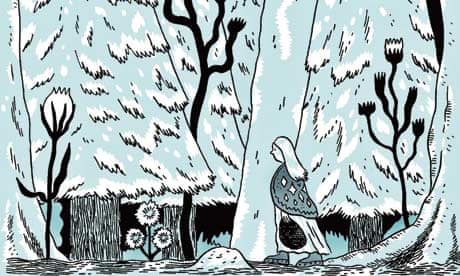 It very much has the feel of a traditional folk tale to me, and although the sleeping prince trope may be much less common, if you look hard enough you can generally find gender swapped versions of any classic fairy tale-especially since this one bears resemblance to the journey of the heroine in "East of the Sun, West of the Moon." But the only sites I could find the tale at had no source cited-
Wikipedia has a tale of the same title
but it's clearly different (although also fascinating-in this one the heroine must stay awake watching the sleeping Prince for 3 months, 3 weeks, 3 days, 3 hours, and 3 half hours. She is persuaded to sleep towards the end and then follows a Goose Girl-type episode of mistaken identity).
This site
says it's Spanish (thanks,
Amy Elize
!) but has no further information on collection, editor, date, etc. So I can't promise it's authentic folklore but an interesting tale worth reading and sharing! Any further information on it would be welcome!
UPDATE
:
Sarah Allison
has more information on the source in the comments. Thanks, Sarah!
Also-in the past I've done features on roses in fairy tales on Valentine's Day. Interestingly, the key to getting past the lions in this tale is to pick
two white roses
from outside the North Wind's door, and throw them down before the lions when she gets close enough-something that would require lots bravery, since the lions act threatening until she gets close enough to throw down the roses! And the episode also reveals the great amount of power sometimes associated with roses in fairy tales.
Image sources-
1
and
2